Surveillance Investigation
A great deal of investigation work is supported by Covert Surveillance. This is when a person's activities are monitored to gain information in order to establish if he or she is involved in any practice arousing the suspicions of another. This is a very wide and expandable definition but one fitting the criteria associated to the work of the Private Detective.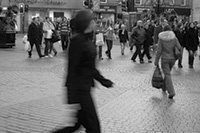 Covert Surveillance can take a number of forms:
Physical – when someone is followed and observed and,
Technical – utilising the support of a device, such as a Vehicle Tracking tag. This is equipment attached to a vehicle which identifies where it is located.
Other technical equipment can be deployed which would allow the operator to collate information broadcast during the presence of individuals in a particular room or enclosed area. This is generally referred to as Room Bugging and allows the client access to information others might want to keep from them.
Southdowns Investigations offer Counter Electronic Surveillance ( Bugging Identification ). This may be of interest predominantly to corporate industry who wish to keep business matters secure in a competitive market but suspect illicit activity by another company. It is also available to the private sector. Specialist  equipment deployed can identify radio transmission energy omitted by technical broadcasting equipment (Electronic Bugging ) .
This method of security can be used to prevent information being imparted to those whom, in normal circumstances, would be prevented access to it.
With so many low cost and easily available devices on the internet, developing and competitive businesses may wish to utilise our service to protect its practices and internal interests.
Southdowns Investigations has membership/ affiliations with the following organisations